Visit the Ayama Wines Farm Store
Ayama Wines celebrated the official opening of its' Ayamateca Farm Store in Sept, by hosting a family open day. The Ayamateca will stock all Ayama Wines, a wide range of imported Italian Wines and locally made Grappa & Limoncello. Adorned in authentic Italian olive oil, fresh vegetables and wheats of Durum, Manitoba and Marano Vincentino, all which are grown, cultivated and hand harvested on the farm.
Address: Ayama Wines, Voor- Paardeberg Road, Windmeul, 7630
Spend a day in search of the Spring Flowers
You don't need to travel far to observe Mother Nature at her proudest. Spring flowers leave thick blankets of colour over the slopes of the West Coast National Park. While driving along the coast toward the Postberg section to view the flowers, keep your eyes peeled for passing whales and dolphins, road crossing tortoises, bat-eared foxes, honey badgers and mongooses among many other stunning wildlife.
West Coast National Park conservation levy: Adult SA residents and citizens – R64; Child SA residents and citizens – R32; Adult foreign nationals – R136; Child foreign nationals – R68
Dinner and Dancing at The 41.
DJ Rene, "The Frenchman", takes to the decks at The 41 every Friday night in October. The summer warm-up sessions will offer a scrumptious Sunset Tapas Platter for R99 to share which includes Smoked Red Pepper Hummus with flatbread, Potato & Parmesan Churros with Chipotle Mayo and Crispy Squid with Sriracha Aioli. Guests will also receive a complimentary Hendricks Litchi Tonic welcoming drink. Good music, delicious food and great vibes are all on offer this spring at The 41, guests who booked their tables will also receive a complimentary cocktail drink.
Contact The 41 on 021 437 0558 or email at info@the41.co.za for Dinner, Party table bookings (available from 10pm) & Guestlist.
See Cape Town from a Bird's Eye View.
Book a tandem paraglide, microlight or gyrocopter trip with Celestial Gift Experiences and take in the beauty of the city from a vantage point few ever have the opportunity to see. No experience necessary; just dress for the weather and prepare for a good time.
Take a Ride on the Wild Side
Rev your Harley Davidson engines and lean into the curves as you roar around some of the City's most spectacular coastal roads. Satisfy your need for speed as you ride pillion with an experienced driver from Cape Bike Travel.
The *Into the Light* Concert – a treat for the senses
Designed to give the opportunity to immerse yourself in music in a way that you would not normally do. The concert begins with the auditorium fully lit, and as the choir starts its magic, the lights slowly start to dim, until the whole venue is plunged into darkness. As the music continues, the lights slowly come back on. This is a reality for many people with visual impairments and while we see this as a disability, Into the Light gives us a glimpse into the world of the differently abled.
Join CBM SA and the Cape Town Youth Choir for an unforgettable evening – all while helping people with disabilities in rural communities.
Date – 06 October 2018. Time – 19:00 pm, Hugo Lamprechts Auditorium, Parow, Cape Town
A Chic Escape Room Experience
Take part in the fun, thrills, and intrigue that live-action escape rooms offer at, recently opened, Timeless Escape. Players will be locked in a room and must solve puzzles or find clues to unlock the exit door before the allotted time runs out.
A relatively new idea locally, the concept of live-action escape rooms originates from point-and-click puzzle computer games and brings these to life by immersing players in realistic situations. It's the dream environment for those who love to solve a good puzzle and, as with any game, is always better when played in a team. 
Enjoy a delicious cocktail made by in-house mixologists before and after you have played in the chic prohibition lounge.
Find Timeless Escape at 6 Watson Street, Cape Town. Bar and escape rooms open Tuesday to Sunday from 10:00 to 23:00. Email bookings@timelessescape.co.za to book your escape room experience now.
Go glamping.
The company to use for your luxury lodgings is AfriCamps. The outdoor living experts, who brought the concept of glamping to South Africa, have five camps, placed at some of the most beautiful farms and estates in the Cape: in Oudtshoorn, Swellendam, Robertson, Stanford and Plettenberg Bay.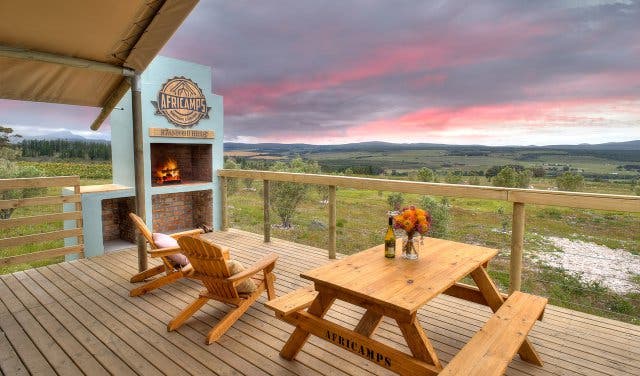 Stanford Hills Estate | Weltevreden Farm | Stanford | +27 (0) 63 170 4222 | hello@africamps.com
Enjoy a Night at Africa's Premier Cabaret Theatre
Think burlesque meets the birdcage and you have a recipe that's too fresh to flop! Ornate, plush, classy and mysterious, Gate69 offers a complete and heightened sensory experience. Step into a world you've never been before! – a world where we welcome you to get lost in the magic that is cabaret!
General enquiries: info@gate69.co.za; Corporate bookings: luanna@gate69.co.za call 021-035 1627 or 071 589 2915
Dance to the Sunrise 
Secret Sunrise is a superb way to start the day off with a group of friends. The secret gathering takes place at various venues around the city, and on arrival you're handed a pair of wireless headphones to boogie down to whatever is being played on the communal channel. A wonderful way to get those endorphins going before a day at work.
For more info visit http://secretsunrise.com.
Museum Night At V&A Waterfront.
Explore the museums of the V&A Waterfront in a new light, after dark on Thursday, 27 September at Museum Night. Museums will be open from 5pm until 10pm offering free admission to the public, with a number of other attractions, such as Zeitz MOCAA who will be offering free admission to the first 2000 guests. Thereafter, admission will be half price. The museum exhibitions are supported by an exciting programme of performances and walkabouts.
Tickets are free and the event takes place throughout the property between 17h00 – 22h00.