The Catalyst Hotel in the heart of Sandton, Johannesburg has been open for just six months and its eatery, Kashew Restaurant, has become a popular destination not only for its delicious food and relaxing outdoor deck, but for its ever-changing, intriguing art collection.
"The art is really one of our big attractions at Kashew Restaurant," says Robert Chifunyise, the GM of The Catalyst Hotel. "The space works as an ever-changing gallery," he says, as he gestures towards the walls surrounding the tables and the entrance hall.
The decor and design of the hotel evoke a sense of understated elegance that appeals to both business and leisure travellers alike, but, really, allows the art adorning the walls to be the shining stars of the space. From the minute guests walk through reception, an array of spectacular pieces, across multiple mediums, feature on the walls on the ground floor of The Catalyst Hotel, guiding guests through to the restaurant and conference rooms.
Expect to find works by Jibril Linjoum Achu – who hails from Cameroon and sold his first painting at age seven; exquisite paintings by Teboho Makoatsa, who says "I engage a personal expression of solid marks and living imagery to express the beauty and innocence of everyday life in South Africa"; and beautiful pieces by Treatwell Mnisi – who says of his work: "I apply impressionistic marks on a surface, to create an image."
"upstART galleries is fortunate to be able to partner with Kashew restaurant in showcasing up-and-coming talent. The restaurant provides the perfect environment for our gallery to gain exposure in a trendy and popular space," says Jaclyn Ellert, director. upstART Galleries is the result of a joint initiative between White Hall Venture Capital Company (WHVCC) and expert art curators, who source artworks from local artists.
"The passion of our team, and the excitement and enthusiasm of the artists, has created something remarkable," says Jaclyn. "upstART galleries began as a project to assess the viability of a business that empowers emerging artists, to bring new South African art to the market," she explains. "The exploratory process yielded a resounding conclusion: where there is passion, there is potential." Currently, upstART Galleries supports multiple artists on a monthly basis, offering both financial and business guidance as well as exposure of their works at The Catalyst Hotel.
"We are constantly meeting with new artists, procuring new work and developing long-term strategies in order to offer desirable works to our clients, at affordable prices," explains Jaclyn. A portion of each sale is redistributed towards the upliftment of the South African art industry.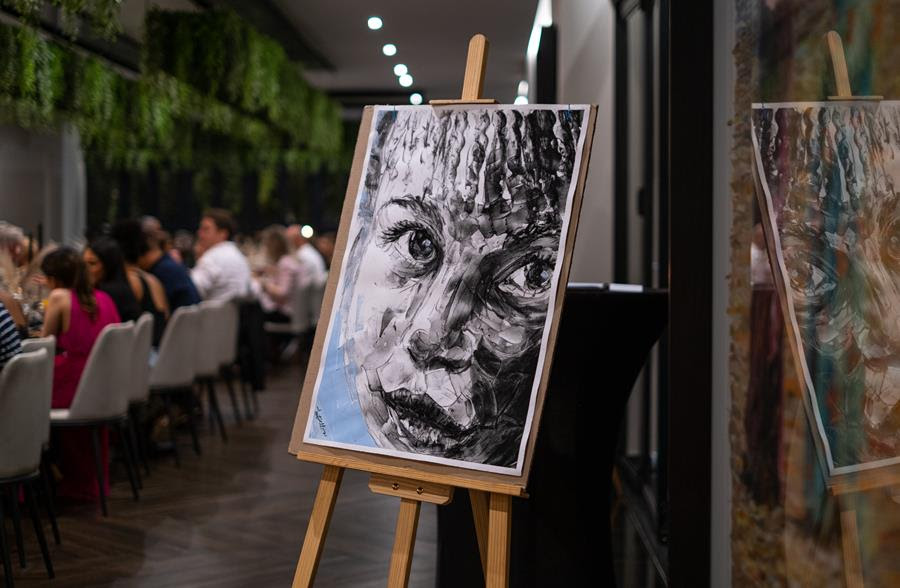 Guests can enjoy viewing these spectacular pieces while dining on on the wholesome and hearty, yet sophisticated menu, featuring favourites such as the Kung Pow Salmon Poke Bowl, with pickled ginger, crispy fried onions, purple Asian slaw, wasabi kewpie mayonnaise and baby shoots or the popular 28-day Aged Sirloin with roast marrow bones, brandy sauce poivre and hand-cut fries.
Guests can expect to find the occasional "special" off the main All-Day Dining Menu, which has been newly updated to include the Pan-fried Mozambique Prawn Pasta, with rich tomato chilli linguine, lime, fresh dill, Parmesan lashings and rocket.
Kashew Restaurant offers a beautiful deck and swimming pool, surrounded by an oasis of greenery and makes for the perfect spot for sundowners and post-work cocktails. The restaurant also features an elegant bar, which plays host to events, including gin evenings and, occasionally, live music.
Currently, the team at The Catalyst Hotel are also working on a new conferencing offering and set of menus for what Robert refers to as "Intimate Conferencing". "No one in Sandton can give the level of attention to a conference that we can," he explains. "We have a proper restaurant, with a real focus on food, as opposed to being just a hotel who offers food and conferences. We can offer our corporate and conference guests a food experience like no other," says Robert.
For bookings and enquiries please visit www.newmarkhotels.com, email reservations@newmarkhotels.com or call +27 21 427 5900